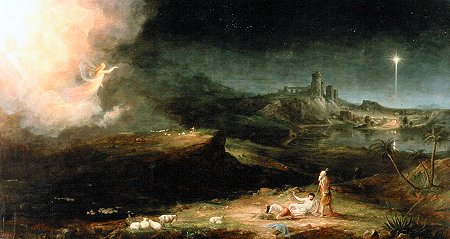 Somewhere between the heaps of wrapping paper, metallic bows, feather trees, holiday sales, and presents, we've lost it.  We've lost our sense of awe at the miracle of Christmas.
Christmas spirit is alive and well–in classic Christmas movies, in song ("that feeling of Christmas"), and of course, in those pretty cards we send around.  It's a warm, fuzzy time of year which contrasts with the cold, bleak winter outside.  It's a great sentiment, especially in our culture, which is wracked with violence, hardship, and sorrows.  Yet it all seems so tame, so real, so unlike the way the birth of Jesus should be celebrated.
There's nothing tame about being born in a stable in a little city in the middle of nowhere.  God in human form coming to earth as a baby that had to rely on a teenage girl and her husband for his very care. (Those of us who have worked with teenagers know the risk of a teenager being the mother of God.  I mean, half the time they can't even show up to drama practice on time–yet give birth to God?  Yikes!)  God who created the heavens and the earth and humans with His very hands entrusts Himself to the care of humankind, who screwed everything up in the first place.
In a song released on his latest album, Christmas from the Realms of Glory, Bebo Norman takes a look at the heavenly perspective during the birth of Christ.  Lyrics from "Born to Die" read, "They never knew a dark night/Always had the Son's light upon their face…All the angels filled the sky/And all of Heaven wondered why/Why the King would choose to be/Be a baby born to die".   Before hearing this song, I never considered the angels' position, of the heavenly ushering their King to this earth.  Sure we know that the angels proclaimed the birth of Jesus singing, "Glory to God in the highest, and on earth peace to men on whom His favor rests" (Luke 2:14).  But what did they think about the miraculous conception?  Did they think anything at all?
Unfortunately, our knowledge of angels is very limited.  We do know that humans may entertain angels unaware (Hebrews 13:2) and  humans have received various proclamations from these ethereal beings, who are the messengers of God.  The Bible also tells us that angels learn about God's mercy from the gospel message (I Peter 1:12).  Although angels are a higher order of created beings, they were not created in the image of God—that was reserved for humans alone.  However, it has been accepted in theological circles that because humans bear the image of God that angels study our behavior.
There is no indication that angels knew what was coming until the angel Gabriel announced Jesus' birth to Mary (Luke 1:26-38).  As higher beings perhaps they understood prophecy, and knew that Jesus had to come to die to be a perfect sacrifice for mankind to be redeemed.  Yet the host of Heaven may very well have been perplexed as Bebo Norman alludes to in "Born to Die".
It was the appearance of an angel that terrified the shepherds biding their flocks on a hillside near the birth place of Jesus.  Preceding the angel's arrival, the glory of God shone around these sleepy shepherds who probably thought they were in for another boring night.  Now Moses caught a glimpse of the glory of God and his face glowed for days.  Isaiah saw the throne of God in a vision and became undone crying, "I am a man of unclean lips!"  Those who have seen God's glory are changed and terrified.  Naturally, the appearance of a shimmery angel doesn't seem to have a calming effect on the shepherds because the angel says, "Do not be afraid" (Luke 2:10).  If I am sitting out in a field at night having idle conversation with my shepherd friends when all of a sudden the glory of God shines down and an angel appears, I'm going to be afraid.  After the angel announces the birth of Christ, the entire heavenly host shows up and sings.  That's even more terrifying, yet awe-inspiring.
There was yet another individual who feared the birth of Jesus, King Herod.  Instead of worshiping the Christ child, he sought to destroy a child who he thought could one day steal his throne.  Herod issued a decree that all the Hebrew babies in the vicinity of Bethlehem and its surroundings be killed (Matthew 2:16). The birth of Jesus led to a horrific genocide of male infants in Bethlehem because of Herod's fear.
 Wonder, awe, and terror surrounded all those who played a role in the story of Jesus' birth.  Yet we've stopped wondering at it all.  We've dumbed down Christmas in a mass of commercialism, presents, food, and family.  All these are wonderful things, but they can't compare with the real thing.  Christmas spirit is a lifeless thought that exists in movies, in cards, and in song, but the true Spirit is that of God leaving the glory of Heaven to be confined to the body of an infant.
There were angels who heralded His arrival onto earth, yet may not have understood why he chose to be a baby born to die.  There were shepherds who became part of the greatest story ever told by simply serving as witnesses to the event.  And there was a king who fearing the loss of his kingdom slaughtered the innocent.  Yet we still miss the awe and majesty of the event that divided history.  Let us approach Christmas with the wide-eye wonder of a child, not because of the presents under the Christmas tree, but because of the Gift that inspired those beautifully wrapped presents.