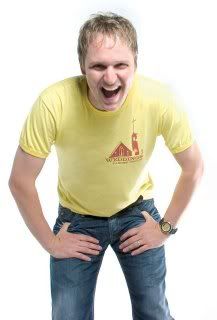 Written in June 2007
By Amy Sondova For some people creativity comes easily, but Ian Eskelin has a need to create. One could even say that he breathes creativity; whether playing with his band All Star United, producing albums for artists like Everyday Sunday and Stellar Kart, or writing/co-writing songs with singers such as Krystal Meyers or Jessie Daniels.
Like many teens, Eskelin, who is now 37, started his own rock band when he was 13 and comments, "We weren't very good." It was when Eskelin was a junior at Wheaton College that he realized that he wanted to express his creativity through song-writing. After finishing college, he moved to Nashville with a friend and completed his Master's degree in communications, "We basically lived in a van down by the river until we got a record deal."
However, Eskelin didn't have to wait long and soon found himself living his dream of making Christian records. "When I first started out, everyone told me that you had to decide what do to and follow hard after that. And that's what I did, I recorded my 10 songs as All Star United or Ian Eskelin and I toured my guts out. And we'd come back and do it all over again. I find that the older I get, the more I enjoy all parts of the creativity process." Tired of living with the push and pull between recording and touring seasons, Eskelin, who has already been produced All Star United's albums as well as his own projects, began producing for others as well. Not only that, he also began writing songs for other artists.
Last February, when the Dove Award nominations were announced, Eskelin was honored with five nominations for his work as a writer and producer, including the prestigious honor of being nominated as Producer of the Year. Winning one Dove Award for "Me and Jesus" a song co-written with Adam Agree of Stellar Kart, Eskelin is sure to be a favorite among the GMA nominating committee for years to come.
Eskelin says that his creative output is stifled when he is not constantly doings things, "I crave the idea of waking up in the morning and finishing the day with something that didn't exist in the morning." Juggling his time between performing, writing, and producing, Eskelin also enjoys spending time with his wife and three year-old son, Aidan.
"I've been in the Christian music industry for a long time," Eskelin reflects. "I'm kind of like the cockroach that has weathered the nuclear blast."
Read more about Ian Eskelin and his band All Star United–"Making Love and Radiation with All Star United".